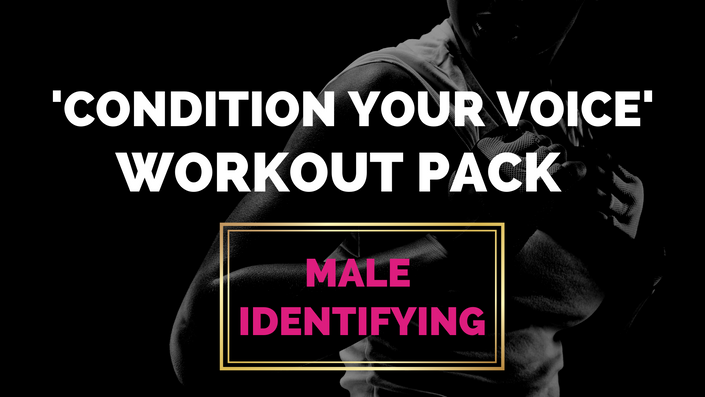 Condition Your Voice Workout Variety Pack - MALE RANGE
The Warm Ups, Warm Downs, and Training Programs You Need to Get and Stay in Shape & Perform Your Best
Your vocal fitness plays a HUGE role in your ability to step up on stage and deliver without thinking.
This VOICE CONDITIONING WORKOUT PACK is right for you if you're looking to:
Condition Your Voice to Be Stronger

Get Your Voice Back Into Shape
Gain Consistency and Control in Your Voice
Warm Up Quickly, Without Fatiguing
Have A Collection of Press-And-Play Programs to Warm Up, Warm Down, and Train Your Voice
Or if You've Completed VoiceFIT Foundations Training and Want a Collection of Workouts to Further Build Your Voice
Just like training the body, your voice needs both consistency and variety to build and maintain strength and health. This Workout Pack is designed to include all the programs you need to condition your voice and keep it tip top!



Did you know that if you use the 'wrong' program, or if you don't know how to go through your program, it may take years or more to gain that same skill?




Did you know that Warming Up your voice isn't the same as Training it to be stronger, have more stamina, or have more control?
What I know to be true....


In my 25 years of coaching, I've seen how a lack of fitness or a lack of vocal conditioning leads to singers being unable to express themselves freely. Get the fitness you need to just BE when you perform.

Philosophy

A voice is so much more than its ability to make pitches, create tones, or say words. It's what you have to say, where you're coming from, and what you want to express. It's important to develop and nurture your WHOLE voice; to merge the physical voice and the bigger voice behind it. That's why The Way You Train Matters. Get the fitness you need to step up on stage and express yourself in the moment without hesitation
Introducing the VoiceFIT® 'Condition Your Voice' Workout Pack!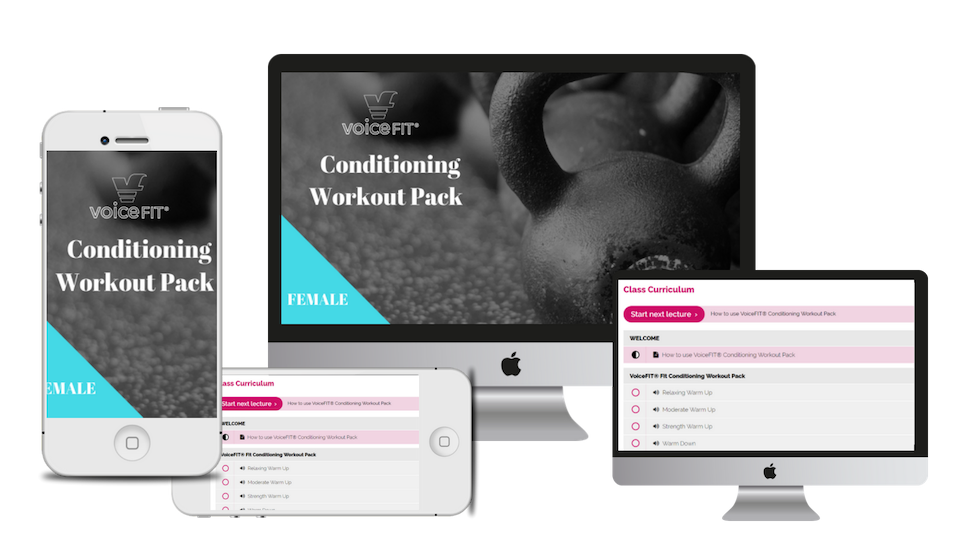 The VoiceFIT® Conditioning Workout Pack Includes all the Warm Ups, Warm Downs, and Training Programs You Need To Get and Stay in Shape so you can sing without extra thought or worry:
3 Warm Ups – to do before gigs or practice sessions - use singly or do 2 at a time
1 Warm Down – to do after gigs, recording sessions, or even post-show days
4 Training Programs – to balance, coordinate, strengthen, and optimize your voice
1 Agility Workout – to increase your vocal mobility, flexibility, and build upon the building blocks of fundamental stylings
For a description of all the programs in this pack, click the PREVIEW button below in the Course Curriculum "How to Use the VoiceFIT® Conditioning Your Voice Workout Pack.
The VoiceFIT® 'Condition Your Voice' Workout Pack has been designed to take the thinking and guess-work out of your practice.


About VoiceFIT 'Condition Your Voice' Workout Pack
I made this Pack of Voice Programs to help me prepare singing contestants for their Blind Auditions on NBC's "The Voice" - and have used it for fourteen seasons (and counting) on the show.
LEVEL: Intermediate. Programs are suited for intermediate singers, but are also excellent for advanced singers new to working out and warming up, singers new to singing who want good training to start with, and anyone looking to get back into shape, or maintain their vocal fitness level. Programs are around 10 minutes each in length and can be stacked to make a longer routine.
INTENSITY: Depends on the voice Program and your current vocal range and ability. Intensity of the exercise programs range from relaxed to intense to meet all your essential needs as a singer and performer.
PLEASE NOTE: If you are looking for more of a step-by-step program to walk you through the specific task of building foundational strength, check out VoiceFIT Foundations Training. If you aren't sure which program or package is right for you, please watch the FAQ videos which outline who the programs are for, what they are, and how to know if they're right for you! We want you to get you what you need to thrive!
***
The voice programs in this Conditioning Workout Pack are NOT sequential. You can do in any order. Recommended Use: Begin with which ever program(s) catch your eye OR Start with the Warm Ups. Watch the Warm Ups & Warm Downs Tutorial and try out one warm up a day for three days to find the one that suits you best right now as your daily warm up. Then watch the Training Programs Tutorial and try out one a week for a period of 5 five weeks.
Your Instructor
Industry Voice Coach Tamara Beatty is known for her ability to zone in on what a singer needs and instantly take their performance to the next level. Her TV credits include voice coach on NBC's The Voice", Celebrity Voice Coach on FOX's number one hit show "The Masked Singer", Lead coach for S2 FOX's "I Can See Your Voice" and vocal Producer / Voice Coach for Apple TV's new show "My Kind of Country". Tamara's coaching style is precise, intuitive, and powerful.

"Tamara is an excellent coach and understands many different voices and personalities. I would go to her everyday if I could!"
- Mindy Jones, Lead singer for Moby, Los Angeles,CA

"Tamara's ability to quickly read and gain the full trust of the artists she works with, as well as create exercises to enhance their vocal delivery is second-to-none."
- Don Green, Former President - Canadian Country Music Association, Toronto, ON.

Without Tamara Beatty I wouldn't have been able to perform nightly on the largest tour of my career."
- JJ Shiplett, Singer/Songwriter. On Canadian Tour with Johnny Reid. Calgary, AB

Frequently Asked Questions
When does the course start and finish?
The course starts now and never really ends! There are two ways you can go through the course. The lessons have been designed to go in sequence, but essentially you can go through them at your own pace. For best results, do one lesson every 1-2 weeks with the aim of singing through the practice programs 4 times per week.
How long do I have access to the course?
How does lifetime access sound? After enrolling, you have unlimited access to this course for as long as you like - across any and all devices you own.
What if I am unhappy with the course?
This course has been designed to take into account all your needs! However, if you have any issues at all, please contact us immediately and we will get you what you need!
Will this course help if I'm experiencing voice issues?
If you are experiencing voice issues, please contact your doctor or ENT for an appointment. The program is designed for healthy voices and is not created for individuals experiencing vocal pathology. However, stay tuned for some excited new products to help with that!
How long are the voice programs in the Workout Pack?
Most of the programs are around 10 minutes long. They are kept short and sweet for two reasons: 1) Singer who aren't used to doing voice warm ups don't overusing and get tired doing programs that are too long 2) Singer who are familiar with doing voice programs can stack the programs to make their practice 10, 20 or 30 minutes long.